Your wedding day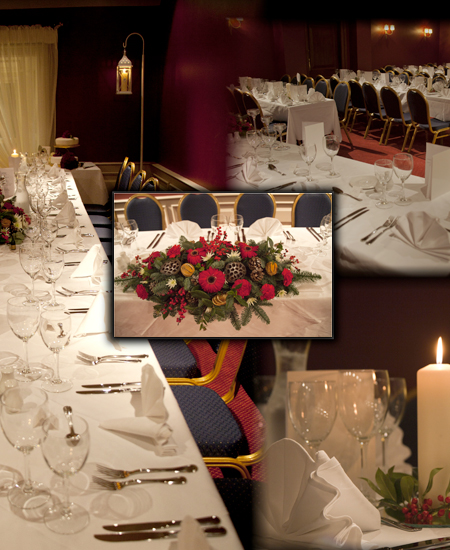 Your Wedding Day is a very special one and choosing the perfect venue is one of the most important decisions you will make. We pride ourselves in taking care of all those little extras that mean so much, so that you and your guests can relax, experience exemplary restaurant quality food and enjoy the day you have dreamed of. We can cater for weddings ranging in size from 60 to 140 guests.
Included in our Wedding Packages
Exclusive one wedding per day
Greeted by wedding coordinator, on red carpet with lantern lit welcome
Champagne reception on arrival for the happy couple
Freshly brewed tea/coffee & biscuits for guests on arrival
Personalized menus
All tables dressed in crisp white linen tablecloths and serviettes
Candleabra, candles & fresh floral arrangement for top table
Decorative centre piece on guests table
Use of Cake Stand and Cake Knife
Built-in amplification system for speeches and background music
Dedicated Wedding Coordinator to work with you from the outset to help plan your wedding
Extensive car parking
Use of a Safe
Complimentary en-suite room for bride/groom to freshen up on the day
Our wedding coordinator can assist in arranging your civil wedding ceremonies
Click here to contact us regarding our wedding day packages.
Sample Menu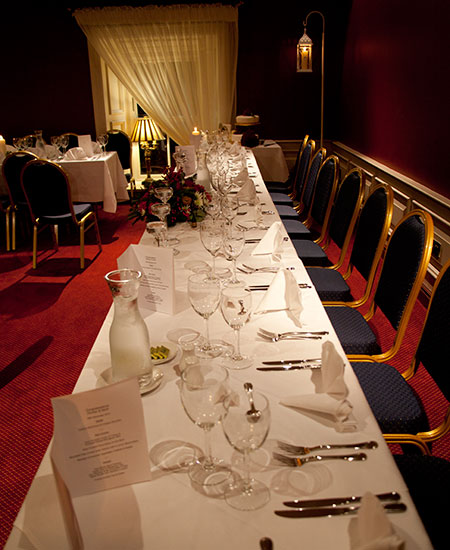 Starters
Grilled Fillet of Chicken and Crisp Bacon Lardons Caesar Salad
Cos lettuce, garlic croutons, parmesan cheese shavings
Chicken and Duck Liver Parfait
Spiced beetroot & red onion relish, toasted brioche
Warm Asian Style Marinated Chicken
Chinese leaf, pak choi, bean sprouts, egg noodle salad, chilli, soy and ginger dressing
Oak Smoked Salmon Parcel
Crab & Boston prawns, mango & chilli salsa, lime crème fraiche
Terrine of St. Tola Goat's Cheese and Marinated Vegetables
Sweet tomato relish, baby leaf salad
Duo of Ogen and Water Melon
Pomegranate & champagne syrup, citrus orange sorbet
Crisp Confit of Duck Leg
Braised sweet & sour red cabbage, port wine and redcurrant jus
Soups
Seasonal Garden Vegetable Soup
Fresh Cream of Leek & Potato Soup
Roast Chicken & Sweet Corn Soup
Cream of Mushroom & Roast Hazelnut Soup
Spicy Roast Plum Tomato & Chorizo Soup
Cream of Parsnip & Honey Soup
Cream of Butternut Squash & Coconut Soup
(All served with Herb Cream)
Main Courses

Roast Sirloin of Irish Hereford Beef
Champ potato, Yorkshire pudding and red wine jus
Roast Leg of Marinated Slaney Valley Lamb
Savory herb stuffing, port wine and thyme reduction
Roast Turkey Crown and Honey Baked Ham
Walnut and sage stuffing, red wine and redcurrant jus, cranberry sauce
Roast Supreme of Chicken
Boulangere potatoes, lardons of bacon, pearl onion and red wine sauce
Braised Shank of Slaney Valley Lamb
Slow roasted in red wine herbs and spices, roasted root vegetables
Baked Darne of Atlantic Salmon
Annagassan crab and sun blushed tomato crust, buttered asparagus spears, tomato and red pepper salsa
Baked Fillet of Hake
Fine beans and chorizo and chervil cream sauce
Grilled Fillets of Sea bass
Scallion pomme puree, buttered julienne of leeks, champagne and lemon beurre blanc sauce
Pan Seared Fillet of Irish Hereford Beef
Flat cap Portobello mushroom, pearl onion, Hennessey brandy cream
Roast Crispy Silverhill Duckling
Apricot and apple stuffing, rich plum orange & star anise sauce
Classic Fillet of Beef Wellington
Wrapped in parma ham, baby spinach and mushroom duxelle, madeira wine jus
Vegetarian Selection
Baked Spinach, Wild Mushroom and Pine Nut Strudel
Ricotta and cream cheese in filo pastry, with crepe mushroom cream
Butternut Squash and Coconut Risotto
Rocket and parmesan cheese shavings
Button Mushroom and Vegetable Stroganoff
Cooked in paprika, white wine and sour cream, timbale of spiced basmati rice
Baked Irish Goats Cheese Tortilla Wrap
Roast Mediterranean vegetables tomato and basil ragout
Desserts
Fresh Seasonal Fruit Pavlova
Passion fruit cream and mixed berry compote
Baked Lemon Tartlet with Duo of Fruit Coulis
Iced raspberry sorbet
Baked Apple & Mixed Berry Crumble
Vanilla pod ice cream, apple crisp
Chocolate, Pear Bread and Butter Pudding
Warm crème analgise sauce
White Chocolate & Raspberry Pannacotta
Crushed raspberry compote
Crumbled Honeycombed Cheesecake
Fruit coulis
Dooleys Sticky Toffee Pudding
Warm caramel sauce and fresh cream
Click here to contact us regarding our wedding day packages.
Buffet Menu
Hot Buffet
Beef Stroganoff
Beef Curry
Beef Stromboli
Chicken A la King
Chicken Curry
Thai Green Chicken Curry
Sweet & Sour Pork
Chefs Carving (Choose 3)
Honey Glazed Ham
Breast of Chicken
Prime Fillet of Irish Beef
Succulent Turkey Breast
Fresh Crisp Salads (Choose 3)
Mixed Salad Leaves with Juicy Tomato, Cucumber & Onion
Homemade Coleslaw
Egg mayonnaise
Potato Salad (with or without Bacon)
Vegetarian Thai Noodles
Savoury Rice
All main courses are served with Rice & Chips
Late Evening Food Options
Selection of Homemade Sandwiches
Freshly Brewed Tea & Coffee
Selection of Homemade Sandwiches & Cocktail Sausages
Freshly Brewed Tea & Coffee
Selection of Homemade Sandwiches, Cocktail Sausages & Chicken Goujons
Freshly Brewed Tea & Coffee
Selection of Homemade Sandwiches, Cocktail Sausages, Chicken Goujons & Homemade Mini Beef Sliders.
Freshly Brewed Tea & Coffee
Click here to contact us regarding our wedding day packages.