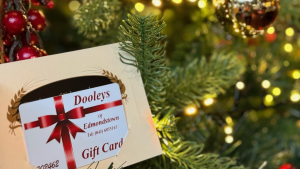 Gifting a voucher for a great dining experience throughout the year at Dooley's Restaurant is a wonderful way to treat someone special to unforgettable meals, and the memories that come with them.
With a Dooley's Restaurant voucher, the lucky recipient can enjoy a range of dining options, from casual bar food to scrumptious gourmet dishes. They can choose to dine with friends or family, or even enjoy a romantic dinner for two.
As the seasons change, the menu at Dooley's evolves to ensure the freshest ingredients are used. From hearty stews in the winter, to fresh seafood in the summer, there is something to please everyone. The recipient of the voucher will enjoy a culinary journey through the year, indulging in delicious dishes that are fresh, seasonal, and expertly crafted by the chefs at Dooley's.
The ambiance and atmosphere at Dooley's are second to none, with a cosy and welcoming setting that will make them feel immediately at home. We pride ourselves on our dedicated and attentive team that truly understand how to deliver a warm Irish welcome, they will be sure to have a fantastic dining experience.
Overall, gifting a voucher for a great dining experience throughout the year at Dooley's Restaurant is a thoughtful and generous gesture that will be much appreciated. The recipient will be able to treat themselves to great food and company and create lasting memories of a wonderful dining experience.
All vouchers can be purchased at reception in Dooleys Bar and Restaurant.
---
FAQ
–
Where can I buy a voucher?
Vouchers can be purchased in the restaurant or over the phone on (0416855165)
How long is the voucher valid for?
Their is NO expiry date on our vouchers.
What can I use the voucher for?
The voucher can be used towards Food, beverages and events.
Where can the voucher be used, in Brady's and Dooley's?
Yes the voucher can be used in both Dooley's Restaurant & Bar as well as Brady's bar.
Are there any restrictions on the voucher?
No